Dr. Amir Kalanie
MB ChB, FRACS(Orth), FAOrthA
Conjoint Senior Lecturer UNSW
Adjunct Senior Lecturer University of Notre Dame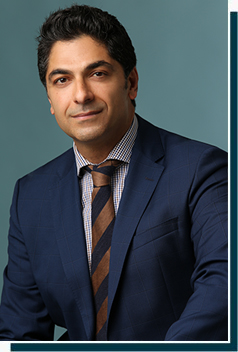 Dr Amir Kalanie is a Fellowship trained Orthopaedic Surgeon with further sub-specialist training in Hip and Knee Replacement and Arthroscopic Surgery.
Dr Kalanie is one of the few surgeons using the Optimised Positioning System, known as OPS, for performing Total Hip Replacements. This highly sophisticated planning system involves studying the specific anatomy and mechanics of each individual patient using pre-operative 3D CT reconstruction combined with simulated computational modelling to assess the optimal positioning of the total hip components for each individual patient. This provides Dr Kalanie with a bespoke detailed surgical plan for each individual patient regarding the sizing and positioning of the implants before the actual surgery. Dr Kalanie then combines this with intra-operative computer navigation, using the Intellijoint system (as seen in the live video demonstration), which provides real time dynamic feedback to ensure that the OPS plan is precisely implemented for each individual patient. This in conjunction with the use of muscle sparing Direct Anterior Approach (DAA) surgery and accelerated post-operative rehab protocol will ensure rapid return to function and independence.
Dr Kalanie is also part of a handful of surgeons offering the benefits of Robotic Total Knee Replacement surgery using the state of the art Corin OMNIbotics which allows the use of advanced patented robotics technology for precise positioning and sizing of implants combined with real time data analysis and feedback from a robotized tensiometer, the BalanceBot. This ability to accurately size, position and balance each individual knee will undoubtedly lead to improved outcome and more seamless recovery for more patients.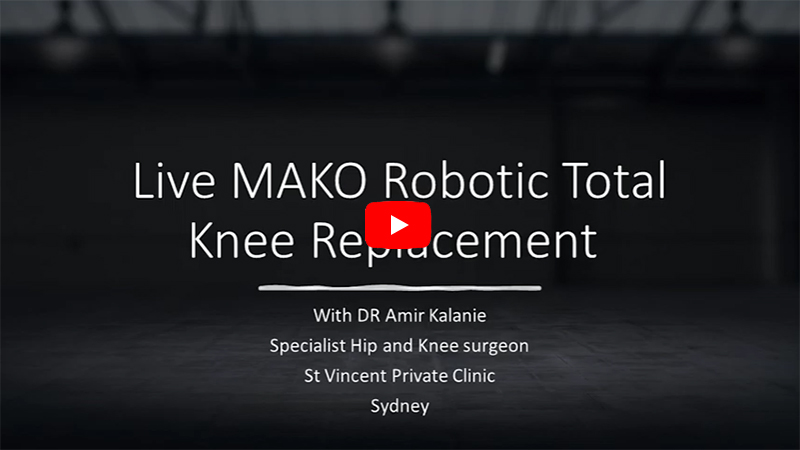 OMNIBotics Minimally Invasive Knee Replacement Robot-assisted knee replacement can help orthopedic surgeons create a better fitting impant for the patient. Learn more about knee replacement using minimally invasive robotic technique.
Dr Kalanie operates at North Shore Private Hospital as well.
Dr Kalanie is able to accept urgent referrals and offers the following surgical procedures:
Computer assisted Anterior Minimally Invasive Hip Surgery
Revision Hip and Knee Surgery
Minimally Invasive Robotic Total Knee Replacement
Patient specific/custom made Unicompartmental (half) Knee Replacement
Arthroscopic ACL Reconstruction
Arthroscopic treatment of Abductor/Gluteal Tendinitis/Bursitis/Tears
Arthroscopic Acetabular Labral repairs and treatment of Femoroacetabular Impingement (FAI) and Hip Instability
Myriad of soft tissue/sport injuries around the Hip including Adductor Tendinitis, Osteitis Pubis, Rectus Abdominus Tendinitis
Hip Resurfacing Arthroplasty
Current Projects
Hip arthroscopy results in improved patient reported outcomes compared to non-operative management of waitlisted patients
published in journal of hip preservation surgery 2017.
Leg length discrepency following total hip replacement: Causes, investigations and treatments. A.Kawalkar,A. Kalanie and M. J. Neil.
Deep venous thrombosis following elective primary total knee replacement: The influence of minimal tourniquet in surgery. A. Omari, P. Panti, D. Rubio and M. J. Neil.
Image pasted 3-foot X-rays - usefulness in pre-operative planning and leg length discrepancy. J Atupan, P. Panti, A. Kalanie and M. J. Neil.
The Paragon cementless total hip replacement: Our first 300 cases. A.Kawalkar,A Kalanie and M. J. Neil.
Extension gap disease of the medial compartment: An unrecognised clinical entity. A.Kalanie and M. J. Neil.
Sequential single stage revision total knee replacement for infection: initial results same as gold standard. P. Panti,A.Kalanie and M. J. Neil.
Encouraging early results of custom triflange acetabular cups (PMI) for revision THR with massive bone loss. A.Kawalkar, A.Kalanie, M.J.Neil.
Publications