Hip resurfacing vs THR
There are two well recognised surgical techniques for treating symptomatic Osteoarthritis (OA) of the hip. One of these techniques is a Total Hip Replacement (THR) (fig1). THR is a very safe, highly effective solution with a long and well proven track record. As such it tends to be the option that is the most appropriate in majority of cases.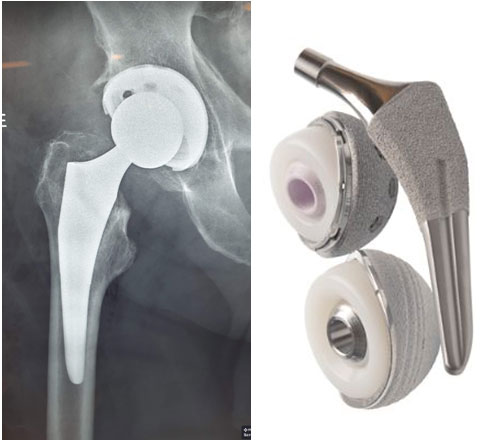 Figure 1: Total Hip Replacement, the most commonly used surgical procedure for treating osteoarthritis of the hip.
However, increasingly hip replacements are being performed in patients who are younger and more active. This younger cohort tend to have a different set of expectations and have an understandable desire to return to their pre-operative sporting and athletic pursuits. That is where the second surgical technique, Hip Resurfacing Arthroplasty (HRA) (fig2), comes in.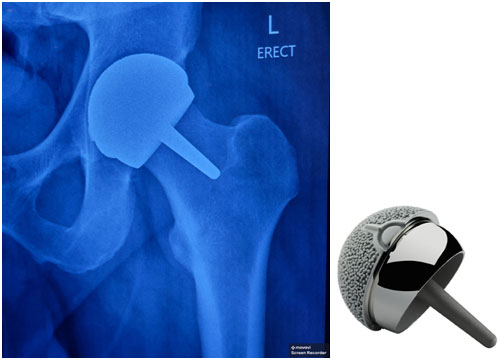 Figure 2: Hip Resurfacing Arthroplasty. Note how the femoral head and neck are maintained in this procedure
With HRA, the femoral head and neck are preserved, and a metal cap is placed on the surface of the femoral head. This has as number of advantages:
The resurfacing implants tend to be much larger in diameter than the heads used in THR. The Smallest femoral head resurfacing tends to be around 46/48mm in diameter vs 32/36mm used in most THR. Generally the larger the femoral head, the more stable the joint is and therefore less likely to dislocate.
Metal on Metal articulation provides excellent wear resistance compared to metal on plastic or ceramic on plastic, again allowing the patients to pursue more demanding sporting activities.
HRA is more bone preserving (as can be seen in the photos above). This is highly advantageous as patients younger than 55yrs of age as these patients are at much higher risk of needing a repeat/revision operation at some stage down the line.Once HRA eventually loosens, it allows easy conversion to a THR. However, revising a loose/worn THR can potentially be a much bigger and more complicated operation with less predictable outcomes.
It is suggested that gait characteristics in patients following HRA are more normal than those who have undergone THA.
Overall, the procedure has provided excellent success rates in young (<55yrs of age) male population with survival rates reported at over 95% at 10 years.
Managing hip arthritis in the young active patient (<55yrs of age)is a challenging problem as, until recently, there have been no perfect prosthetic solutions that meet the needs of this specific cohort of patients. Total hip replacement (THR), although exceptionally reliable, reproducible and safe option, does have some limitations when used in this age group. After THR, patients are often advised not to return to running sports as intense repetitive loading accelerates the rates of wear and potential loosening of the prostheses. These limitations do not apply to HRA.
However, HRA has had its own draw backs and controversies in recent times. In the mid-2000sHRA gained widespread popularity and a number of these implants with poor design and lack of proven track record were implanted in large numbers in Australia and around the world, resulting in a unacceptable number of early implant failures and concerns regarding excessive metal ion levels in the blood. However,after careful analysis and deliberation, defective implants with clear inferior outcomes were removed from use in the Australian market. Only two hip resurfacing implants have TGA approval, Birmingham(from Smith and Nephew) and ADEPT (from MatOrtho). Both these implants have shown excellent 10yr results on the Australian National Joint Registry (ANJR), with revision rates slightly better than Total Hip Replacement.
Both these prostheses have shown excellent survivorship and longevity. In fact on the ANJR, resurfacing arthroplasty has lower revision rates (ie lower failure rates) compared to conventional Total hip replacement in male patients younger than 55 years of age.
A recent paper published in the Hip International showed in men, survivorship of Hip Resurfacing Implants was excellent: 99% at 10 years and 92.5% at 21 years.
HRA is still not recommended for female patients though due to higher rates of failure and complications. Female patients tend to have smaller femoral heads, a variable that is associated with greater risk of femoral neck fractures and higher incidence of metallosis.
Hip resurfacing is generallytechnically a more demanding operation to perform compared to THR. There are certain steps that need to be performed with a high degree of accuracy and precision to avoid unnecessary complications. One such step is ensuring that the femoral head component is placed concentrically and centrally on the femoral head (fig 3). The only way to check the position of the femoral prosthesis with most manufacturers is to use manual instruments which have both an inherent and human error associated with them.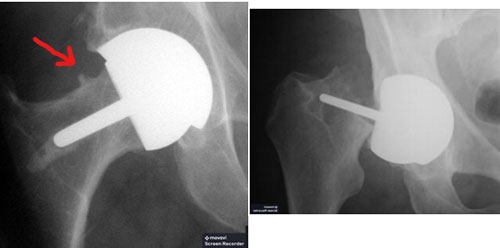 Figure 3: Notching of the femoral neck by the reamer can cause a weak point, leading to femoral neck fracture
With the ADEPT prosthesis, I am able to obtain 3D printed patient specific guides (fig4)for the femoral head which allows for perfect central placement of the guide wire for the reamer, greatly reducing the risk of notching. The engineers are also able to inform me of the exact size of the femoral implant prior to the operation, allowing me to proceed with utmost confidence.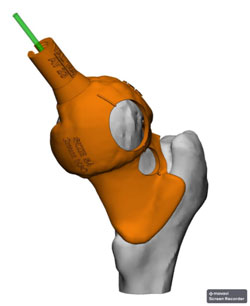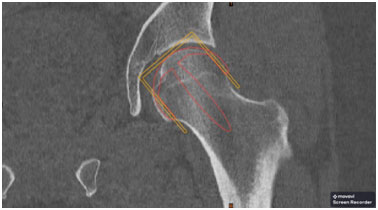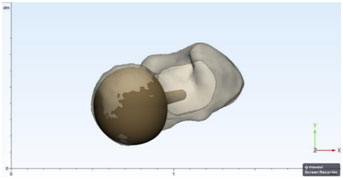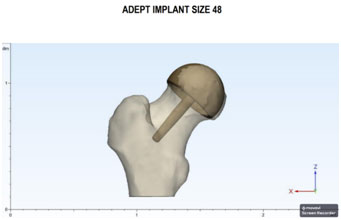 Figure 4: Use of 3D CT planning and 3D printing of Patient Specific Guides allows the surgeon to place the femoral head perfectly concentrically, avoiding notching of the femoral neck. It also provides information regarding size and orientation of the femoral prosthesis
The other issue that can lead to complications down the line is malpositioning of the acetabular cup. As seen in the image below, the acetabular cup needs to be placedin 35deg/25deg orientation to prevent unfavourable mechanics and loading between the head and the socket (fig 5). Achieving this ideal angle with use of manual instruments is very challenging. As such, I use intra-operative computer navigation (fig6) which uses an opticalcamera and sensors to show me precisely in what angle I am positioning the cup in real time, ensuring placement in the "Safe Zone" every case. This again will help reduce the rates of technical related complications.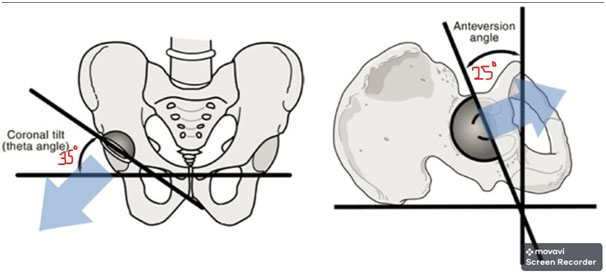 Figure 5: Ideal orientation of the acetabular prosthesis for Hip resurfacing in the frontal & sagittal plane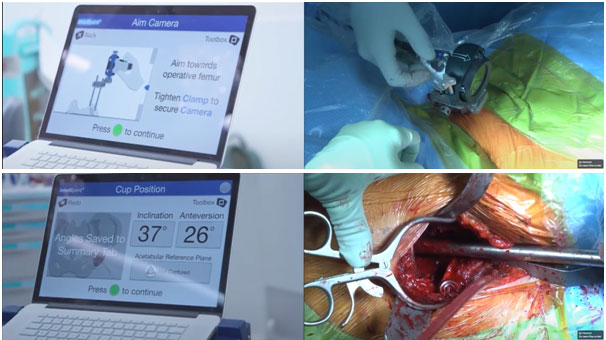 Figure 6: Intra-operative use of computer navigation to guide precise placement of the acetabular component during THR and HRA
Overall in the hands of an experienced hip surgeon and with help of cutting edge technology, HRA is an excellent option for the young/fit male patients with symptomatic hip osteoarthritis that has failed non-operative measures.Although THR can also be considered as an option in such a scenario, the benefits of increasedstability, bone preservation and ability to resume high intensity physical activity without limitation makes HRA an attractive proposition.
You will need the Adobe Reader to view and print these documents.